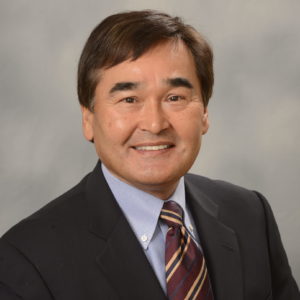 Dr. Adrian Ryan is a board-certified sports medicine and joint replacement orthopedic surgeon specializing in the knee, shoulder and hip.
Dr. Ryan was born in Anchorage and raised in Unalakleet, where some of his family still lives. He graduated from Seattle Pacific University with a Bachelor of Science degree in chemistry and then attended the University of Washington Medical School. He completed an internship in family medicine at Swedish Hospital in Seattle. His general surgery internship and orthopedic residency were completed at the Oregon Health Sciences University in Portland.
Dr. Ryan may be the only Alaska Native orthopedic surgeon in the world. He was a representative for the Inuit Circumpolar Conference, an international organization representing the Inuit people of the Arctic from Alaska, Canada, and Greenland, from 1998 to 2004. He was also a representative for the Indigenous Peoples' of the North, to the Arctic Council.
His father began their family business, Ryan Air, in 1953. Dr. Ryan began flying at age 14, got his private license at 16, and his commercial license at 18. He was a commercial bush pilot from 1974 to 1982. He still flies frequently, mostly in Alaska and Oregon.
In addition to flying, Dr. Ryan enjoys traditional fly-fishing and salmon fishing. He frequently flies other Alaska Fracture & Orthopedic Clinic doctors on fishing trips. His special orthopedic interests are knee and shoulder arthroscopy and total hip and knee replacements.
Interests
Sports Medicine
Arthroscopy of the Knee and Shoulder
Hip and Knee Replacement
Medical Degree
University of Washington, Seattle, WA
Internship / Residency
Swedish Hospital and Medical Center, Seattle, WA
Oregon Health Sciences University, Portland, OR
Board Certification
American Board of Orthopaedic Surgery
Memberships
Alaska State Medical Association
Alaska State Orthopaedic Society
American Academy of Orthopaedic Surgeons
Western Orthopaedic Society